Chinese Cuisine
Hello.. hello... (thumping of mike) Can everyone hear me? Good. Ahemm. Here we are at Chinatown to sample some of the famous foods of the Chinese. Come, let's us all adjourn to the Ah Ma's Coffee House, at the back of the alley over there...(some squinting). Be assured that we will all have a good lunch before we move on to Kampong Glam, the Malay Village, for ermm...high tea? Wait... I'll give you an introduction before the menu...
With the Chinese forming a large proportion of the local population, locating eateries serving authentic Chinese cuisine does not pose a problem. From the economical hawker centre to its more lavish counterpart, the restaurant, one can enjoy the wonders of the Chinese culinary heritage.
The cuisines from the southern part of China-- namely Cantonese, Hokkien, Hainanese, Teochew and Hakka-- get most of the limelight in the local Chinese culinary scene (especially since of the ancestors of Chinese Singaporeans hail from there). Nevertheless, fret not, as one is not denied the opportunity to savour lip-smacking Sichuan and Peking delicacies.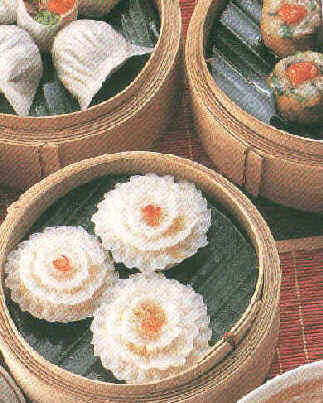 Cantonese
This is the local favourite of all the Chinese cuisine. And little wonder, as the food, prepared with a touch of lightness and creativity, is seasoned ingeniously to give its natural flavour full play. Dishes you must sit up and take note of are include Spring Rolls, Shark's Fin Soup, Crisp Deep Fried Chicken, and not to be belittled, Dim Sum (picture on left). A popular choice at breakfast or lunch, these are steamed or deep-fried mini delicacies packed with a powerful punch—dumplings, buns or pastries stuffed with meat, sweet sauces or herbs.
Hokkien
Let's test your Math!
Wheat flour noodles + rice vermicelli + garlic + prawns + sliced squid + pork + beansprouts + egg + Chinese chives + douse of rich pork stock + thick chilli paste + little lime to squeeze over it all = ?
Boggled you, haven't we? Answer: the winning formula of Fried Hokkien Mee, currently regarded as Singapore's unofficial national dish. (Obviously you have not been paying attention during Math lesson.) Also deserving of mention is Popiah, rolled pancakes filled with shredded yam bean and bamboo shoots, beansprouts, prawns, shredded omelette and lap cheong (Chinese sausage), seasoned with chilli and garlic pastes plus sweet bean sauce. (We're sure you can work out the formula yourself!)
Hainanese
You must must must must must must must must must must must must must must must sample the joys of the simple yet superb highly acclaimed Hainanese Chicken Rice. It is a glorious combination of chicken steeped in hot liquid, splashed with a touch of sesame oil and soy sauce, and served with rice cooked in chicken stock and a chilli-garlic sauce. But don't forget to try Steamboat, a dish of boiling stock placed in the centre of the table for diners to cook their own meat, seafood and veggies, with accompanying sauces to complement the food.
Teochew
This has gotta be a fairly healthy cuisine, with its widespread use of gentle roasting and steaming, only a touch of animal fat and seasonings. The flavour prevails, but (thankfully) not the fat. 'Wunnerful' for dieters. Head straight for Steamed Fish and Braised Goose/Duck.
Hakka
Another popular healthful variety of food. The hallmark of Hakka cuisine is its simplicity without compromising on taste. Beancurd is often used instead of meat for cooking. We recommend Yong Tau Foo, which is beancurd stuffed with minced meat and beefball soup. And also—Yong Tau Foo is a great source of protein for vegetarians and the rest of the world alike.
Sichuan
This spicy cuisine is noted for its robust flavours and reliance on hot chillies. Not for the faint-hearted. You would be missing out if you give Deep-Fried Shredded Beef, Chicken/Prawns with Whole Dried Chillies and Duck Smoked Over Tea Leaves and Camphor.
Peking
The only regional Chinese cuisine featuring mutton, mainly in mutton soups and stews. If you go to a restaurant, you must order the world renowned Peking Duck, which usually comes in 3 courses. The very 1st features the crispy roasted duck skin, turned into a pancake and seasoned with spring onion and hoisin sauce, while for the next course, the duck meat is stir-fried with beansprouts, and a soup, prepared with salted cabbage, would be the final course.
Menu for Lunch:
Hainanese Chicken Rice ---- S$5
Chee Cheong Fun (aka rice noodle roll) ---- S$3
Char Kway Teow (aka Singapore's unofficial national dish) ---- S$3
Rojak (aka Chinese Salad) ---- S$3
Yu Sheng (aka 100% Singaporean) ---- S$20 - S$40